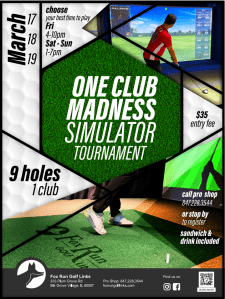 One Club Madness Simulator Tournament.
9 Holes. 1 Club. 1 Champion.
Grab one club and join us in the simulators for 9 holes as we determine the best 1 club golfer at Fox Run! Play at your preferred time:
Friday: 4pm-10pm
Saturday/Sunday: 1pm-7pm
$35 Entry Fee includes sandwich, drink ticket, and prizes.
Register at the Pro Shop or by phone at 847-228-3544.